Matrix42 EgoSecure Data Protection
Die Vision von Matrix42 ist es, die tägliche digitale Arbeit zu vereinfachen. Dieser Vision folgend bietet Matrix42 eine innovative 360° Digital Workspace & Security Management Software an.
Diese bietet Lösungen für alle wesentlichen Kerndisziplinen von IT-Abteilungen, wie Unified Endpoint Management (UEM), Software Asset Management (SAM), Endpoint Security Management (mit Matrix42 Endpoint Security powered by EgoSecure sowie Matrix42 Automated EDR powered by enSilo), Service Management (ITSM) und Identity and Access Management (MyWorkspace). Alle Produkte und Lösungen können einzeln oder in Paketen/Suiten erworben werden.
Besonders im Bereich des Endpoint Security Managements ist es heute unerlässlich über ein vollständiges Endpoint Security Portfolio zu verfügen. Matrix42 ist deshalb im Jahr 2017 eine OEM-Partnerschaft mit enSilo eingegangen und hat im Jahr 2018 EgoSecure erworben. Matrix42 bietet derzeit zwei Endpoint Security-Produkte an: Matrix42 Endpoint Security (EPS) und Automated EDR. In Zukunft wird es die Security Suite "Digital Workspace Security" geben, die Folgendes in der Enterprise Version umfasst: Endpoint Security (powered by EgoSecure) / Automated EDR (enSilo als OEM) / Service Management / Unified Endpoint Management / MyWorkspace.
Wir beraten Sie bei der Auswahl der passenden Lösung und der benötigten Module, unterstützen Sie bei der Implementierung, schulen und beraten Sie bei der Nutzung der Lösung. Stimmen sie mit uns ihren Bedarf und die Bereitstellung der Lösungen ab.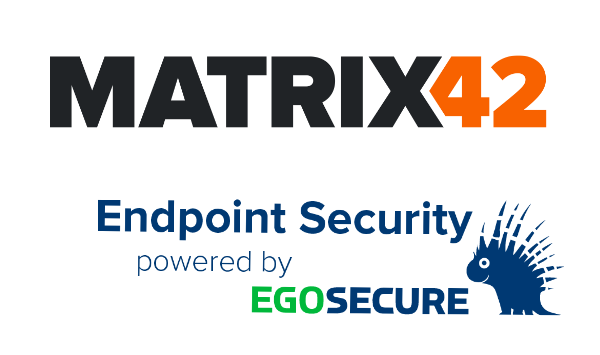 Suiten & Funktionen – Matrix42 EgoSecure Data Protection
Matrix42 Endpoint Security (EPS) ist eine Endpoint Security Platform, die Funktionen wie Geräte- und Anwendungskontrolle, Data Loss & Data Leakage Prevention, dateibasierte und Full-Disk Encryption and Analytics bietet. Matrix42 Endpoint Security (EPS) ist in 3 Suiten erhältlich: Basic – Endpoint Security Compliance, Standard – Endpoint Security Protection und Enterprise – Endpoint Security Prevention. Zusätzlich ist die Suite als Package "Matrix42 Endpoint Security Plus Automated EDR" verfügbar.

Endpoint Security Compliance
Volle Kontrolle über die verwendeten Geräte und Anwendungen
Funktionen
Access Control, um externe Geräte wie USB-Laufwerke oder Dongles zu blockieren oder auf eine Whitelist zu setzen
Application Control ermöglicht das Whitelisting und Blacklisting (nicht so häufig genutzt) von Anwendungen
Secure Audit ermöglicht es Compliance-Managern im Falle eines Datenlecks, den gesamten Datenverkehr von und auf jedem Unternehmensendpunkt, auf dem der Matrix42 Endpoint Security Agent installiert ist, zu überprüfen
Removable Device Encryption stellt sicher, dass auf einem Wechseldatenträger gespeicherte Daten nicht von Unbefugten verwendet werden können

Endpoint Security Protection
Volle Kontrolle über Ihre Daten durch Verschlüsselung
Funktionen
Alle Matrix42 Endpoint Security Compliance Module
Data Loss Protection durch 360° Verschlüsselung, einschließlich:

File-Based Encryption
Full-Disk Encryption (FDE) mit Pre-boot Authentication (PBA)

Endpoint Security Prevention
Vorbeugende Sicherheit für Daten durch Analysen und Regelwerke
Funktionen
Alle Matrix42 Endpoint Security Protection Module
Data Leakage Prevention (DLP) zur Verhinderung von Datenverlusten mittels:

Insight Analysis
IntellAct Automation

Übersicht Matrix42 Suiten
Die Matrix42 Suiten hatten in den letzten Jahren diverse Namen und je nach Ausprägung verschiedene zusätzliche Komponenten.
Historisch sind Teile der Lösung unter anderem bekannt als:
Empirum / Empirum Pro
Client Management (Empirum)
Client Management (Inventarisierung, Software Management, Softwareverteilung, OS-Installer, Personal Backup)
Workplace Automation
Workplace- und Workspace Management
Physical Workspace Management und Matrix42 Corporate Workspace Management
Silverback
Mobile Device Management (Silverback MDM)
Mobile Device Management
Enterprise Mobility Management